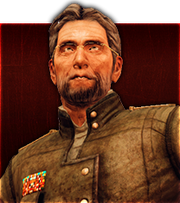 Chief of the armies of Aurora, Honour Grant took part in the ferocious battle of Green Hope alongside Wisdom Phillips, with whom he became friends. If Honour initially admired the Dowser for his extraordinary strategic abilities and his innate ability to attract followers, he was alarmed when Wisdom seized power, clearly favoured the Technomancers and renounced the people. Since then, Honour has been doing his utmost to oppose the authority of the Technomancers, using his privileged position as a folk hero and his friendship with the Dowser. Up to now, this is the only thing that has stopped the Technomancers from getting rid of him.
Section heading
Edit
Write the first section of your page here.
Section heading
Edit
Write the second section of your page here.
Ad blocker interference detected!
Wikia is a free-to-use site that makes money from advertising. We have a modified experience for viewers using ad blockers

Wikia is not accessible if you've made further modifications. Remove the custom ad blocker rule(s) and the page will load as expected.