Roy Temperance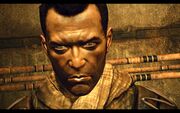 Roy's past is murky. Originally from Aurora, his real name is Temperance, but he broke with the traditions of his guild and chose the name Roy. He is reluctant to talk about his past, and the little information known about him is what he chooses to give. However, he seems very familiar with the pre-Turmoil relics and knows the shanty towns of Shadowlair like the back of his hand. Roy is currently detained in Camp 19, where the arrival of a young prisoner, Innocence, will offer him the chance to escape.
Ad blocker interference detected!
Wikia is a free-to-use site that makes money from advertising. We have a modified experience for viewers using ad blockers

Wikia is not accessible if you've made further modifications. Remove the custom ad blocker rule(s) and the page will load as expected.