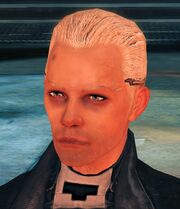 A Technomancer of Abundance, Sean is primarily a cold and disciplined warrior-Priest who runs Camp 19 with an iron fist. Although most of the guards under his command are terrified of him, there are some chinks in his icy armor, notably in the form of Mary, his young assistant, for whom he seems to have tender affection.
Sean tries to stop Roy and innocence when they try to escape camp 19 but fails to do so and dies. Roy then obtains a technomancer glove which allows him to use their powers.
Ad blocker interference detected!
Wikia is a free-to-use site that makes money from advertising. We have a modified experience for viewers using ad blockers

Wikia is not accessible if you've made further modifications. Remove the custom ad blocker rule(s) and the page will load as expected.